Off-site meetings can be game-changers, and, if you get creative with the location, they can be combined with a lot of effective team building – or just plain fun.
Ever been tomahawk bowling with your coworkers? Or ridden a funicular to get to your meeting site? How about strategizing next year's budget while you feed goats on a farm?
"There are logistics involved like transportation and parking, but it is 100 percent worth it if you are trying to brainstorm or conduct some serious collaboration."
The Grand Rapids area has plenty of meeting places ideal for unique off-site gatherings. That goes for local companies looking to get out of their corporate environment or conference planners looking to get their attendees out of the convention center for a taste of the area.
"There are logistics involved like transportation and parking, but it is 100 percent worth it if you are trying to brainstorm or conduct some serious collaboration," said Amy Young, CMP, CTA, president of Destination Consultants.
Companies often have employees who work remotely as well as contractors and vendors. An offsite gathering gets everyone out of their daily workspace and into a fresh frame of mind fertile for new ideas.
As for conferences, Young said it's essential that meeting planners take advantage of the local flavor, activities and history of the destination city, soaking up the diversity and the culture.
"Otherwise, why travel at all? It's no different from staying home and meeting in a hotel there," she said. The local convention and visitors bureau will have plenty of suggestions for unique places as well as solutions for attendee transportation.
 Here are a few sites to consider in Grand Rapids and Kent County that are a short drive away from downtown: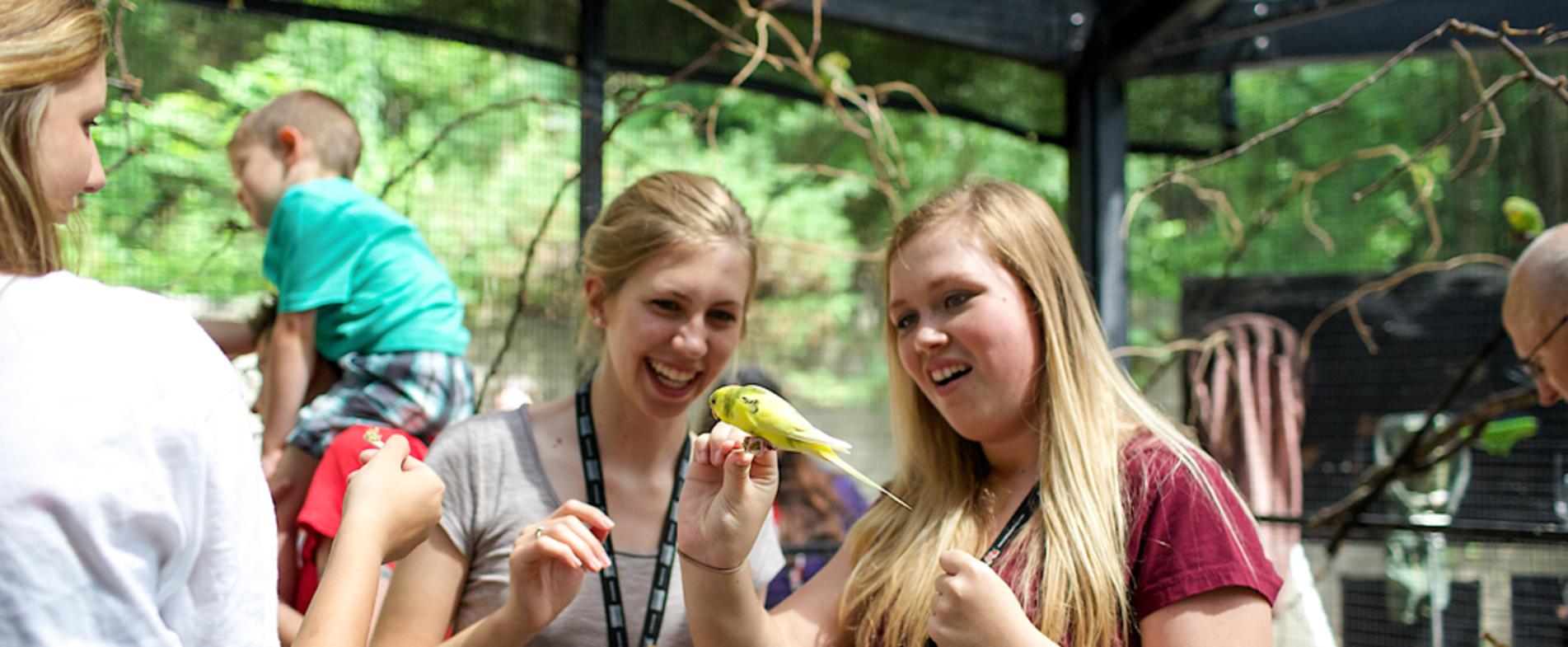 Get up close with the animals at John Ball Zoo in West Side neighborhood then have your meeting among the trees at the Bissel Tree House.
Photo Credit: Experience Grand Rapids
John Ball Zoo
John Ball Zoo is home to more than 2,000 animals representing 230 species, but it also features a ballroom in the park pavilion overlooking a rose garden and the Bissell Tree House, a beautiful meeting space at the top of the zoo accessible on foot or via a hillside funicular. The tree house features floor-to-ceiling windows overlooking downtown. (You can rent out the whole zoo, too, and throw in some added experiences like camel rides, the ropes course or the zip line.)
Blandford Nature Center
Experience a little green therapy at your offsite by heading to Blandford Nature Center. It features a collection of wildlife, a working farm with goats, sheep and pigs, historic buildings and 264 acres of woods, streams and meadows traced with 6 miles of trails. The center has indoor and outdoor spaces ideal for meetings, including a brand new auditorium.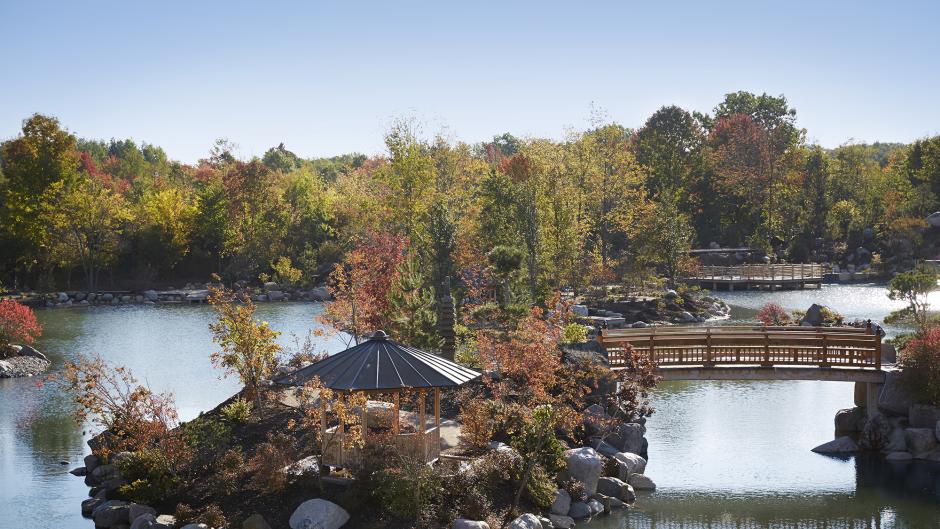 Getting to explore the Japanese Garden at Frederik Meijer Gardens & Sculpture Park in Grand Rapids is just one of the benefits of hosting your meeting there.
Photo Credit: Frederik Meijer Gardens & Sculpture Park
---
Frederik Meijer Gardens & Sculpture Park
Regardless of the weather, you can always get a dose of tropical warmth at Frederik Meijer Gardens & Sculpture Park. Admission to the 158-acre gardens, including the steamy, five-story Tropical Conservatory featuring more than 500 plant species, comes with rental of any of their meeting spaces. They offer small breakout rooms to large banquet facilities. And if the weather is nice, taking a sculpture tour or visiting the Japanese Garden are sure to spark creative discussion.
Games, go-karts and more
Rent a private room at Dave & Busters for the hard work then let your team loose in the midway with hundreds of arcade games. They offer packages for breakfast, lunch or dinner have rooms to meet all your AV needs. Craig's Cruisers is another great place to work hard and play hard – only in addition to arcade games, throw in a trampoline park, go-karts, bumper boats, bumper cars, laser tag, mini golf, a ropes course and a ninja course. (Everyone knows someone who secretly wants to be a ninja, right?). They have private rooms to accommodate your corporate meeting needs as well as the fun to reward all your creative thinking.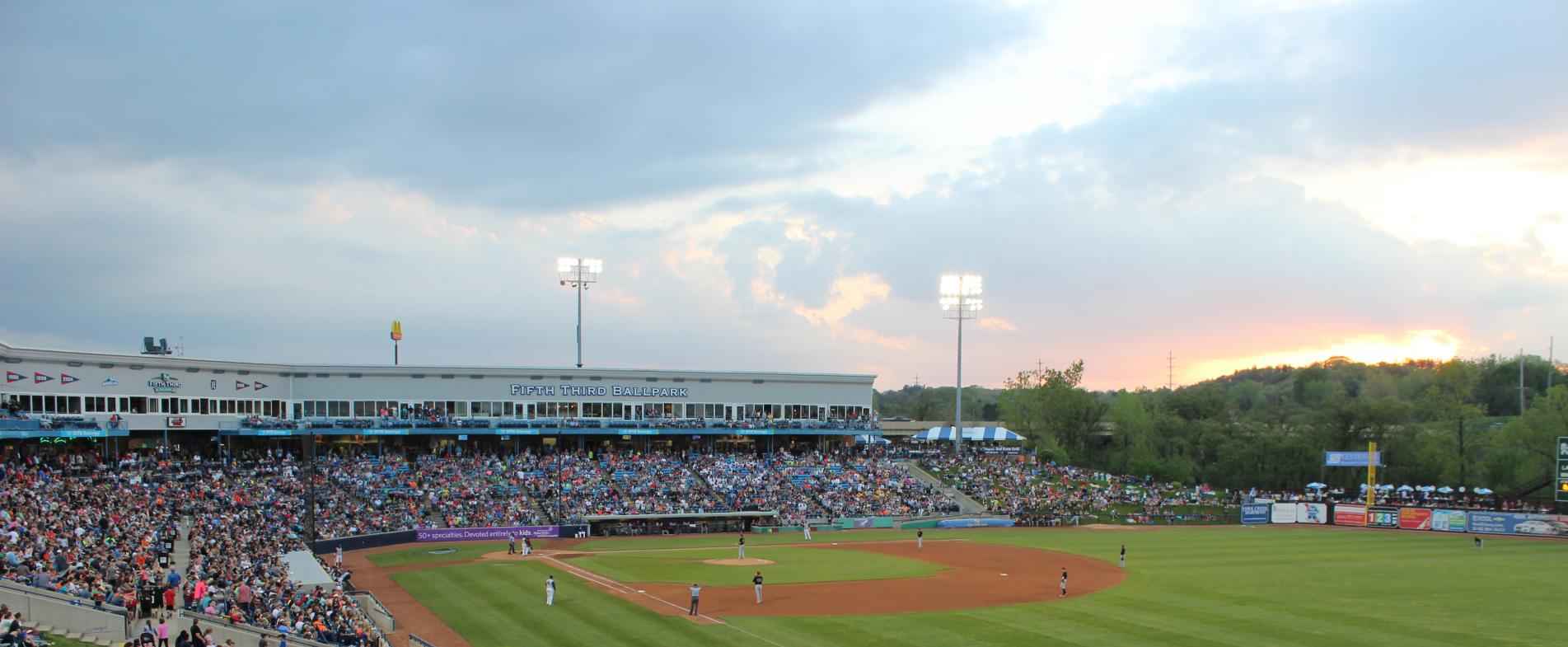 Fifth Third Ballpark features meeting rooms, suites, outdoor decks and more.
Photo Credit: West Michigan Whitecaps
Fifth Third Ballpark
Do you have a lot of baseball fans in your group? Checkout Fifth Third Ballpark, home to the West Michigan Whitecaps, a Class A farm team for the Detroit Tigers. The stadium has a spacious meeting room overlooking center field, suites for more intimate settings, one of the outdoor decks or even the parking lot. You can also include batting practice for your group!
On the farm
Several of the area's agritourism sites accommodate meetings for those who want to pair the corporate work with fruit picking, farm tours, hayrides or cider tasting, depending on the season. Or, get the beauty of the farm without the work at Hydrangea Blu, a 100-year-old barn turned event space that offers all the rustic flavor of a barn with plenty of surrounding green space and all the modern amenities needed for gatherings.
A former factory
Grand Rapids features two meeting sites that turned factory space into attractive gathering spaces that retain the beauty of their original function. The Goei Center is in a 15,000-square-foot former Kindel Furniture factory. And Cheney Place is in the 20,000-square-foot home of the former Cheney Talking Machine Factory, a turntable manufacturer founded in 1914. Cheney has the added bonus of an onsite vintage furniture rental to break out of the corporate conference mode.
Invented sports
We didn't forget about the tomahawk bowling we mentioned earlier. We'll also throw in fowling. Both combine strange things with bowling for a unique activity that just might make your off-site meeting the most memorable your team ever experienced.
You can explore a mix of bowling and football at the Fowling Warehouse in Cascade Township. But if you're looking for something a little more primal, check out tomahawk bowling at Kat's Alley and Tomahawk Lanes in Ravenna – a combination of darts with a tomahawk axe and the scoring of bowling.
So, where will your next off-site meeting be? Let us know in the comments below or contact our sales team for assistance.
Don't miss a post!
Sign-up for the Meeting Minds Blog to get the next A Grand Investment story!